January 10, 2022
Ayrwaves – October 2021
General Notices
---
Here in Hamilton we are still at Level 3 lockdown and the team are therefore still working from home.  Under lockdown levels we will remain working from home until the Waikato region goes to Level 2 lockdown, or once we move to the Covid-19 Protection Framework – green or orange.
We remind members that while working from home contact hours are 9am – 4pm Monday – Friday.  This is to enable the team to maintain a good work/life balance.  Please use our e-mails listed on the side of this e-mail to contact us, or phone the office number and leave a message.  These messages come straight through to us as an e-mailed audio file so we will receive them promptly.  Alternatively, Pam Goodin can be contacted on 027 619 7291.
DATES TO REMEMBER
30 July – Ayrshire Young Breeders Heifer Competition nominations close
20 August – Bulletin advertising deadline
27 August – Bulletin copy deadline
31 August – Registrations close for 2020/21 Herd Book
6 September – Bull calf nominations close for Progeny Test Team 2022
15 September – Ayrshire Young Breeders Heifer Competition nominations close (5-12 age group, calves only)
1 October – Ayrshire Bulletin issued
1 October – TOP application deadline
6 October – Semayr Board meeting
7 October – Ayrshire NZ Board meeting
16 October – South Island Championships, Ellesmere
25 October – Office closed – Labour Day
31 October – Herd Book issued
5 November – Ayrshire On Farm Challenge entries close
30 November – Production Register issued
Ayrshire National On Farm Challenge
Get in quick to enter this year's National Ayrshire On Farm Challenge, proudly sponsored by Open Country Dairy and J Swap Stockfoods.  Entries Close: 5 November 2021
We know that there are very good cows spread around the country that do not leave the farm to compete at shows and this competition is a great way to promote your herd, designed to encourage all breeders to enter cows without the cost of traditional A & P shows and without cattle being fitted.
The On Farm Challenge for 2021 will be judged by Duncan Pipe, with judging taking place in December. We are continuing to monitor the Covid-19 lockdown situation, and will advise members of any changes as we get closer to judging.  Regional results will be announced in January 2022, and national results will be announced at the 2022 Annual Conference.
Look out for two new awards:
The A & M Scott Memorial Shield will now be presented to the national winner of the new progeny class – three daughters by the same sire.
The Glengordon Trophy will now be presented to the Overall highest pointed cow annually.
Enter online here: https://ayrshire.org.nz/ayrshire-on-farm-challenge/
Or complete the form attached and return to info@ayrshire.org.nz
Curly Calf Syndrome
The World Ayrshire Federation has informed its breeders and members that there has been a Genetic recessive discovered in the International Ayrshire population. The recessive has been identified as Arthrogryposis Multiplex (AM), or commonly referred to as Curly Calf Syndrome.  For more information please check out the Ayrshire New Zealand website. https://ayrshire.org.nz/ayrshire-curly-calf-syndrome/
TOP Season
Planning is now underway for the 2021 season, and we are keeping a watchful eye on lockdown levels throughout the country.  Inspections will not take place at Level 4, but can take place at Level 2, and at Level 3 with exemptions for inspectors.   These will affect both members and inspectors ability to travel, and we need to be ready to adapt as necessary leading up to and during the season.  We will be managing travel exemptions for inspectors as required.  Be assured that we will keep any affected members up to date with any changes as the season progresses.
If you have any concerns please feel free to contact us.
South Island Championships, Ellesmere
The Ayrshire New Zealand South Island Championships took place at Ellesmere A & P Show at the weekend, under Covid-19 related restrictions with few spectators in attendance.  Sadly this affected the entries in the Youth Handler classes.  The Ayrshire classes were judged by Peter Gilbert, who graciously stepped in when Judge Roger Hutchings was not able to travel from Northland due to Covid-19 restrictions.  Due to late withdrawals, there was only one Ayrshire entry on the day.
SOUTH ISLAND CHAMPION COW – Lakeside 16-84


GREENLANE TROPHY (Junior Young Handlers): Judge by Donald Green within another class
1st: Thomas Henderson-Greig
2nd: Maddie Ward
FREDRICKSON TROPHY (Senior Young Handler): no entries
National All Breeds Youth Camp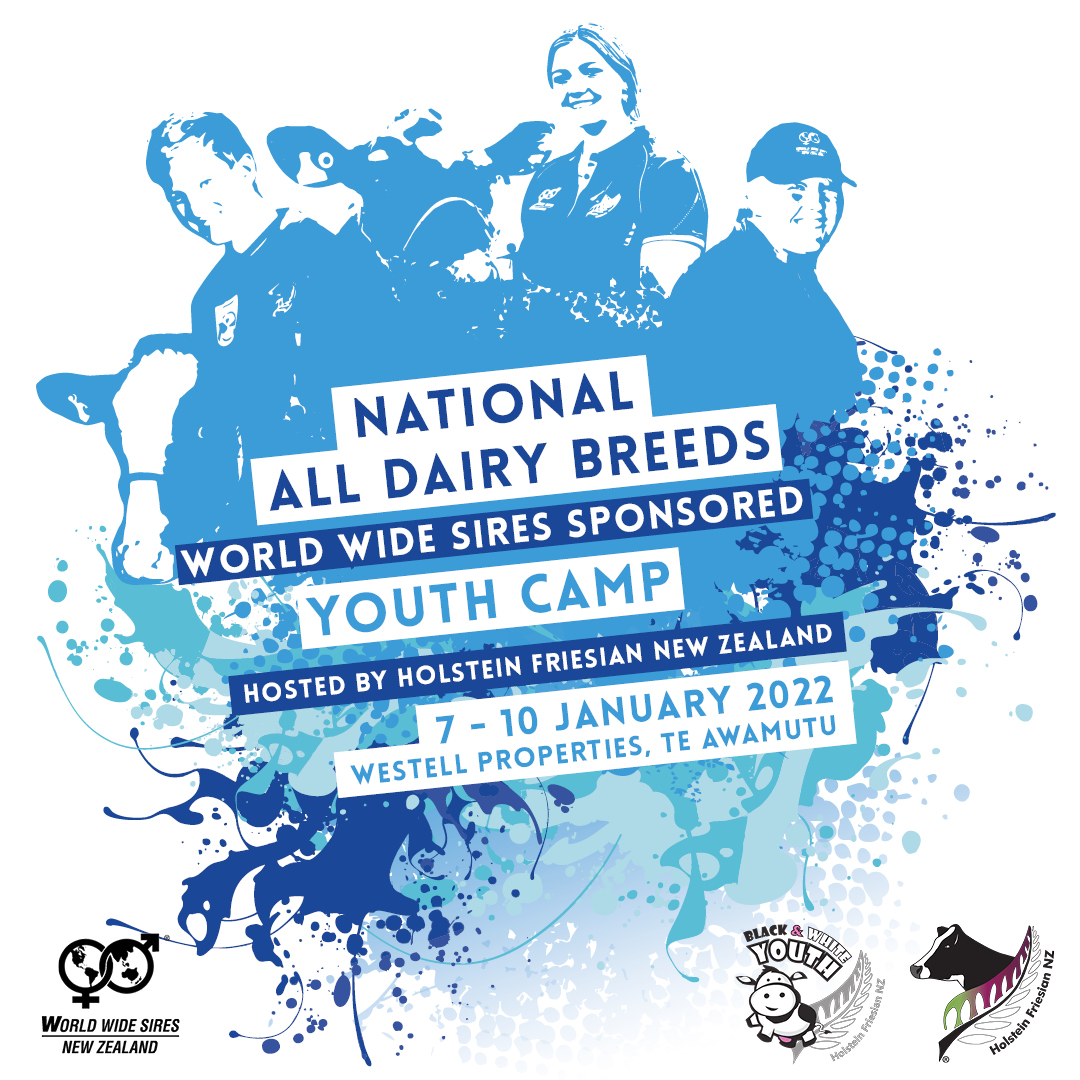 National All Dairy Breed's Youth Camp is back for 2022!!!
Sponsored by World Wide Sires and Hosted by Holstein Friesian New Zealand this camp will be ran from the 7th to the 10th of January 2022 at Westell Properties in Te Awamutu.
All other information and registration forms can be found at:
https://nzholstein.org.nz/event/2022-national-all-dairy-breeds-youth-camp/
ENTRIES CLOSE: 3 DECEMBER 2021
SHOW SEASON 2021/22
The North Island Championships will be held at Levin A & P Show on 22-23 January 2022
The NZ Dairy Event will be held at Manfield Park, Feilding on 26-28 January 2022
The Royal Dairy Event has been postponed
The office team can't get to all of the shows, please keep your photos coming in to us so that we can continue to publicise the breed through show results.  Getting the best of the best in front of farmers!
TOP Ride-alongs
Interest in finding out more about becoming an Inspector?
There is still time to give us a call and book in for a ride along – spend a day out in the field with an Inspector to get a feel for the job and all it entails.  Contact Robyn Gordon at rgordon@ayrshire.org.nz
Arran Trophy for the Ayrshire Young Judge Competition
Ayrshire New Zealand is delighted to advise members that Arran Trophy for the Ayrshire Young Judge Competition will be held this season at the NZ Dairy Event at Feilding on Tuesday 25 January 2022
Entry Rules:
The Arran Trophy is open to people 30 years of age or under as at 1 October 2021, and who are a member, or son/daughter or employee of a member of the NZ Ayrshire Association.
Any competitor 20 years of age or over must be a member in their own right to be eligible.
Any competitor who has previously won the World Wide Sires All Breeds Young Judge Competition is not eligible to enter.
In the event of more than six contestants, preliminaries may be held at the discretion of the Organising Committee.
The winner and second placegetter will be invited to represent Ayrshire New Zealand at the World Wide Sires All Breeds Young Judge competition which will take place later on the same day.
The winner of this prestigious breed competition will received $1,000 towards attendance to a major Australian Show of their choice.
To enter, contact Pam Goodin on 07 856 0816 or pgoodin@ayrshire.org.nz
ENTRIES CLOSE 31 DECEMBER 2021
Herd Book / Production Register
For those members who receive a Herd Book, this will be posted shortly. If you don't receive a Herd Book but would like to, please contact Sean Bresnahan at the office.  The Herd Book is free for Senior members only, all other members pay $18.50 incl GST.
The Production Register will be issued at the end of November.  Once again, if you don't receive this but would like to please contact Sean.  The Production Register now costs $25.00 incl GST for all members.
Herd Test Dates
Members are reminded that the Production Credibility Policy allows no more than 75 days between herd tests for herds to be eligible to win production awards, and all Herd Tests must be pm/am or OAD tests (no single sample tests).  All members are asked to check their scheduled herd test dates, and if necessary change them to allow their herd to remain eligible.
Registrations
Members are reminded that all bull calves must be DNA parent verified to both dam and sire prior to registration.  Don't forget that you can schedule testing through the TOP & Classification season by our inspectors, it's not too late for this season if you have already applied for TOP.  Contact Robyn if you want to arrange this service.
We are finding that many members no longer wish to receive registration certificates.  The new registration programme under DIGAD will make it optional to print these, so please manage your requirements with Robyn as you complete your registrations.
Ayrshire Banners
Would your Ayrshire club like to have an Ayrshire banner for use at shows, Fieldays and club events?  Artwork can now be supplied direct to your local Warehouse Stationery who will supply at a very reasonable cost and you can pick up directly from them.  To find out more contact Sean at info@ayrshire.org.nz
Sale Register
Did you know that members can include classifieds on the Ayrshire New Zealand website?  If you are
Wanting to sell stock or semen
Looking for cattle or semen
Advertising a job or looking for work
Contact Sean on sbresnahan@jersey.org.nz to get your listing onto the website
Herd Signs
New Farm Signs are out! If your old Ayrshire Farm Sign is looking worst for wear, then secure a new Ayrshire New Zealand farm sign today. Made from a durable 3PC aluminium core and are 841 x 594mm.
SINGLE SIDED: $178 + GST
DOUBLE SIDED: $210 + GST
We're excited to offer these signs again and look forward to seeing them on your gates.
E-mail Attachments
If you are receiving this newsletter by post, all entry forms can be downloaded from the website, or posted from the office on request.
Electronic Notification
Electronic notifications are a great way to keep abreast of all our communications to you.  Where we have your e-mail address, and you have NOT previously advised us that you don't wish to receive mail electronically, we will use this.  The exception is the Annual Report, which will provided by post to all members unless they have advised us they would prefer to receive it electronically.
There are some great benefits to using electronic notifications – you will receive notifications immediately, it saves on printing and postage expenses for the Association, and its better for the environment!  You can manage your requirements with a simple phone call or e-mail to the office.  Contact Robyn at info@ayrshire.org.nz or call 07 856 0816.